My Background
Legislative Background
Mike Burgess served five terms (10 years) as the Kansas state representative for the 51st district. He served as chair or vice chair of several committees including the House Government Efficiency, House Elections and Governmental Organization, House Environment committees, and the Joint Committee on Information Technology. He also served on the Energy & Utilities, Transportation, Commerce & Labor, Veterans Affairs, Financial Institutions, and Insurance committees.
Well-Rounded Leader
Mike is a small business owner. He is the president of Spinnaker Web Design & Hosting. Spinnaker specializes in Web design and hosting for small businesses, associations and not-for-profits.
Mike has been a leader in his industry and community. He is a former board member on theShawnee County Fair Association. He also previously served as Chair of the Public Relations Society of America Technology Section.
He is a former K-State Track Team member and also ran for Washburn Rural High School during his four years there.
While at K-State, he received several academic and leadership scholarships and awards, including the designation of Academic All Big 8 and Academic All Big 12.
Native Kansan
Mike is a 5th generation Kansan. He was raised in Pottawatomie County on the family ranch four miles West of Wamego. That is where he learned the value of hard work, helping his parents, Denny and Barbara Burgess.
His family and he moved to southwest Shawnee County more than 26 years ago. (Their horses and hunting dogs also made the move.)
He is the youngest of three sons in a close-knit family.
Mike is married to Megan Chalfant Burgess, who is also a native Kansan.  And they are the proud parents of Meredith and Miles.
Educated in Kansas
Mike earned a B.A. from Kansas State University in journalism/mass communication with a minor in economics. He is also an Auburn/Washburn USD 437 alumnus.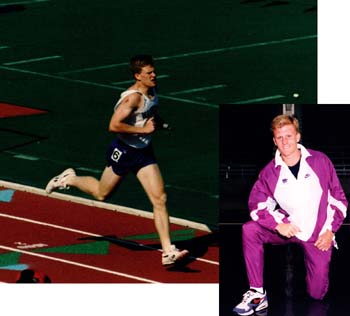 Mike's Hobbies
In addition to being active in his community and industry, Mike enjoys hunting, fishing, softball, golf, running, bicycling, sailing, snow and water skiing, hiking and many other outdoor activities. He also enjoys spending time with his family (typically doing something outdoors). When he's not outside, he enjoys reading books and conversing with friends over a cup of coffee.
Why Mike Ran for Office
Mike ran for office because he believes in the importance of public service.
The taxpayers in this district have provided for his educational opportunities, and he would like to give them something for their investment.
"I have always been interested in the Kansas Legislature and there is a great tradition in my family. My great grandfather, Tom Burgess, served two terms in the Kansas House of Representatives and represented Pottawatomie County from 1947-1951.
"Then my dad, Denny Burgess, served five terms in the Kansas House, representing Pottawatomie and Wabaunsee counties. It is an honor to be the third generation of my family to be a legislator," Burgess said.
He said he grew up around the legislature and has always been fascinated with the process.