Representative Burgess Recognized for Perfect Attendance
TOPEKA – Representative Mike Burgess (R-Topeka) was recognized for the fourth consecutive year for his perfect voting attendance. Official records of the Kansas House of Representatives show that Representative Burgess is one of 27 house members with a perfect voting attendance this year and the only member from the Shawnee County delegation who did not miss a single vote of the 396 cast by the full House.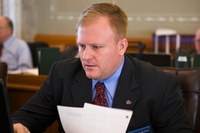 "My job is to be the voice for my constituents. I'm there voting for every vote. I take to heart the fact I'm there representing my district," Burgess said.

Burgess was elected to the Kansas House of Representatives in 2002. He represents the 51st District.

"When legislators are elected, their families, professional responsibilities and social obligations still require their time," said Speaker Mike O'Neal (R-Hutchinson). "Representative Burgess's commitment and dedication to his constituents is clearly evident in the time he spends serving them in Topeka."

Burgess is filed to run in the 2012 November election, and after current redistricting changes, due to census changes, he now resides and is a candidate in the new 53rd House district covering the western portion of Topeka.

The House Clerk records, and recently confirmed, the official attendance and voting records of the Kansas House of Representatives.

- 30 -