Kansas Wins National Award for Open Government
Rep. Burgess Accepts NASCIO Award for Open Government on behalf of the State of Kansas.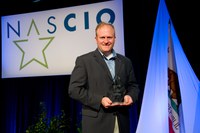 Rep. Burgess Accepting the NASCIO Award for the State of Kansas
Topeka, Kan. – The National Association of State Chief Information Officers (NASCIO) awarded the Kansas Legislative Information Systems and Services (KLISS) system the Award for Outstanding Achievement in the Field of Information Technology in State Government in the Open Government category on October 23rd during NASCIO's annual conference in San Diego, California.
The application is designed to provide access to a full range of legislative deliberations, allowing citizens and businesses to participate fully in the process of making law. Through use of an innovative tracking mechanism that captures versions of bills, agendas, minutes and supporting material as they move through the legislative process, the public can see how law originates and evolves, and more easily take advantage of opportunities to participate in its creation.
This open government application also represents a unique partnership between the Kansas executive and legislative branches of government. The executive and legislative branches participated together in the staffing, funding, and implementation of the system. The executive branch Office of Information Technology Services also hosts the public website, funded by Information Network of Kansas, at: www.kslegislature.org.
The award nomination was made with the joint support of Executive Chief Information Technology Officer Anthony Schlinson, Legislative Chief Information Technology Officer Jim Miller, and Rep. Mike Burgess (R –Topeka), who serves both as the vice-chair of the Legislature's Joint Committee on Information Technology and the chair of the House Government Efficiency committee.
This partnership with the Kansas Legislature supports the Brownback administration's continuing commitment to open and transparent government.  Governor Brownback recently signed into law HB2175, the Kansas OneMap Act.   This law extends government transparency by supporting the geocoding of government information and services provided to citizens and businesses in the state of Kansas.
NASCIO's Recognition Awards are given annually to states that have implemented exceptional programs that have made an important contribution to the operation of state government. This year, NASCIO received more than 120 nominations covering 10 categories. More information on the awards can be found online at: www.nascio.org/